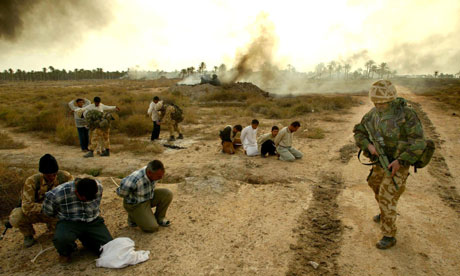 The drumbeat of war with
Iran
grows steadily more intense. Each day brings more defiant rhetoric from Tehran, another failed UN nuclear inspection, reports of western military preparations, an assassination, a missile test, or a dire warning that, once again, the world is sliding towards catastrophe. If this all feels familiar, that's because it is. For Iran, read
Iraq
in the countdown to the 2003 invasion.
A decisive moment may arrive when
Barack Obama
meets
Israel
's prime minister, Binyamin Netanyahu, in Washington on 5 March. "The meeting … will be definitive," said Ari Shavit in Haaretz. "
If the US president wants to prevent a disaster, he must give Netanyahu iron-clad guarantees the US will stop Iran in any way necessary and at any price after the 2012 [US] elections.
If Obama doesn't do this, he will obligate Netanyahu to act before the 2012 elections."
If accurate, this is not much of a choice. It suggests military action by the US or Israel or both is unavoidable, the only question being one of timing...more