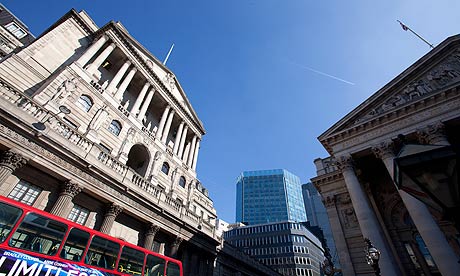 The prospects of fresh action by the
Bank of England
to boost growth increased on Tuesday after Threadneedle Street released figures showing a contraction in the money supply and weak borrowing by both companies and households.
News of a drying up of credit left City analysts confident that a fresh round of
quantitative easing
would be announced by the Bank's nine-strong monetary policy committee when it meets next week.
Data from the Bank showed that consumers repaid credit card debts in December, while borrowing by the corporate sector fell at its fastest rate since the summer of 2009. The broad measure of the money supply – which includes notes and coins in circulation and bank balances – dropped by 1.4% in December, the biggest one-month decline on record...
more